Skyros can be reached from airport via Athens (by Aegean air) the Flying time from Athens to Skyros 35 minutes or by car from Athens to airport via Halkida (160 Km) or Skala Oropos – Eretria (120 Km) to port Kymi.
You embark to the Ferry Achilleas / www.sne.gr and in one hour and forty minutes you will be at Skyros.
Reservation:
Port Kymi tel. +2222022020
Skyros tel. +2222091789 / +2222092164
Book your ferry tickets and Travel to Skyros!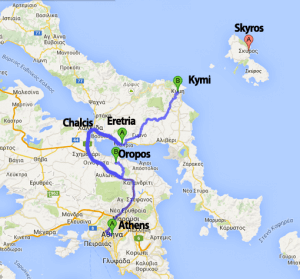 Distances
Supermarket: 1800 m
Barkley-mini market: 1200 m
Taverna: 600 m
Skyros Town: 4 km
Port: 12 km
Airport: 12 Km
Beach – Bar – Cafe: 200 m